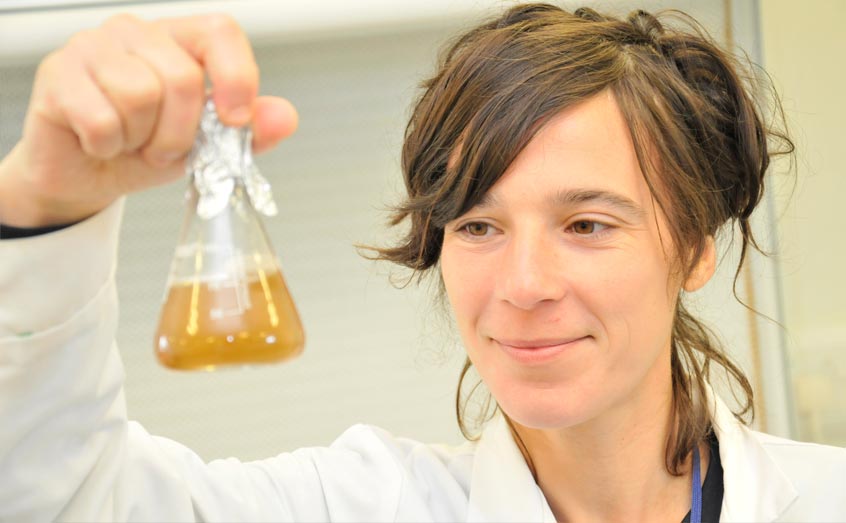 Almost all of her colleagues are working from home, but for scientist Ceci Rad Menéndez, who is responsible for more than 2,500 lives at the Scottish Association for Marine Science (SAMS), there's no option but to go into work - even during a pandemic.
Ceci works in the Culture Collection of Algae and Protozoa (CCAP), an algal 'library' of microscopic marine and freshwater creatures, based at the Scottish Association for Marine Science (SAMS).
One of the most diverse collections of its kind in the world, CCAP hosts more than 2,500 strains, some of which were first described 100 years ago. Strains are available to researchers and businesses worldwide for use in food production, medicine, biofuels, natural products, aquaculture and many other areas of research where algae and protozoa have a pivotal role to play, such us low-carbon economy and food safety.
In short, this UK Government-supported lab is invaluable and unique.
Its custodians follow in the footsteps of founder Professor Ernst Georg Pringsheim, of the Botanical Institute of the German University of Prague, who moved the cultures to the UK in response to the Nazi invasion of Prague during WWII.
"If we were to lose this collection it would be a disaster," says Ceci. "This is a Natural Environment Research Council national facility, but we send cultures around the world. "We've never closed CCAP and none of the staff would entertain such an idea, even in these worrying times."
Ceci is part of a small team of scientists responsible for the huge collection. Some samples are cryopreserved in liquid nitrogen to ensure their survival, but many others need regular care. The cryostat tanks where they are stored need topped up with liquid nitrogen every couple of weeks.
"Most of the microalgae photosynthesise, so they are okay for a few weeks," Ceci explains. "But we have protozoa, like amoebas, and some of them need to be fed weekly. CCAP also holds a collection of algae pathogens that need to be supplied with algae as a host in order to survive.
"We have a rota system within the team but I will usually go in to SAMS three days a week. We already have the necessary personal protective equipment (PPE) but we have been maintaining social distancing too. I am quite happy to go into SAMS because the building is pretty much empty. I feel safe going in."
Maintaining the cultures is more than just a job; staff have a personal involvement in the culture collection, having isolated, or discovered, various strains during research projects.
"They're our babies!" says Ceci. "We grow them, take care of them and they go off to do wonderful things in research. We're proud of all the things they're used for.
"I have been in CCAP for 13 years and it's an incredible job. Algae are truly wonderful creatures of huge importance for the environment, but also of incredible natural beauty."
To find out more about CCAP, see https://www.sams.ac.uk/facilities/ccap/ or follow @CCAP_Oban on Twitter and @ccapoban on Instagram.