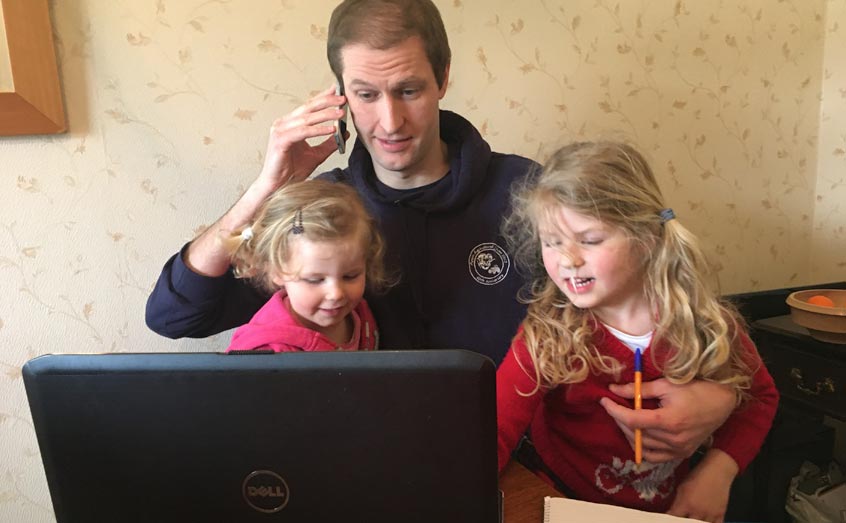 By Euan Paterson, SAMS communications and media officer and dad of two
"Do you want me to change her nappy, Lorna?"
"You haven't got time. Don't you have a meeting in the dining room right now?"
The conversations my wife and I currently have at home might be amusing in years to come. But much of the humour in these situations has been lost amidst worry and confusion as the UK becomes the centre of a COVID-19 pandemic.
Because my wife is pregnant, and categorised as 'at-risk', I've been working in the house since March 17. As I've settled into the unfamiliar scenario of working from home, the lines between my paid employment and my 'daddy' job have well and truly blurred.
This was no more exemplified than when I allowed my toddler to hop onto my knee during a video conference meeting last week, in order to save my colleagues the alternative ear-piercing meltdown. On reflection, it was perhaps a welcome break in the proceedings.
Having multiple Skype, Microsoft Teams and Zoom meetings throughout the day is as much a novelty for my daughters Emma and Isla (aged five and two) as it is for my older colleagues, who shriek with excitement at seeing my shirt and tie replaced with an Appin Agricultural Show hoodie.
Isla, in particular, doesn't recognise the dining room as a makeshift office. In fact, it's from this very room that she observes the hens roaming outside; I'm likely viewed as her tenant.
After nearly a week of 'firefighting' that was largely made up of installing software on my laptop, helping with a crisis communications plan and planning out the priority jobs for the next few months, I've now settled into something resembling day-to-day work.
As I've heard it said many times this past fortnight, this is a 'new normal' and we all have to adjust. Discipline has become the key skill for a workforce in temporary, home-based office set-ups and continuing to deliver results and meet deadlines, uneasy in the knowledge that society is on the brink of its greatest challenge since WWII.
But as I tangle with a working day punctuated with domestic emergencies and IT issues, I know I'm one of the lucky ones. As it stands, I will be paid this month and I have my immediate family around me. So many others are in a more vulnerable situation, in every sense.
Over the next fortnight we will be featuring the experiences of other SAMS staff and how they are coping with the lockdown, starting with an algal scientist who must maintain a 100-year-old culture collection.