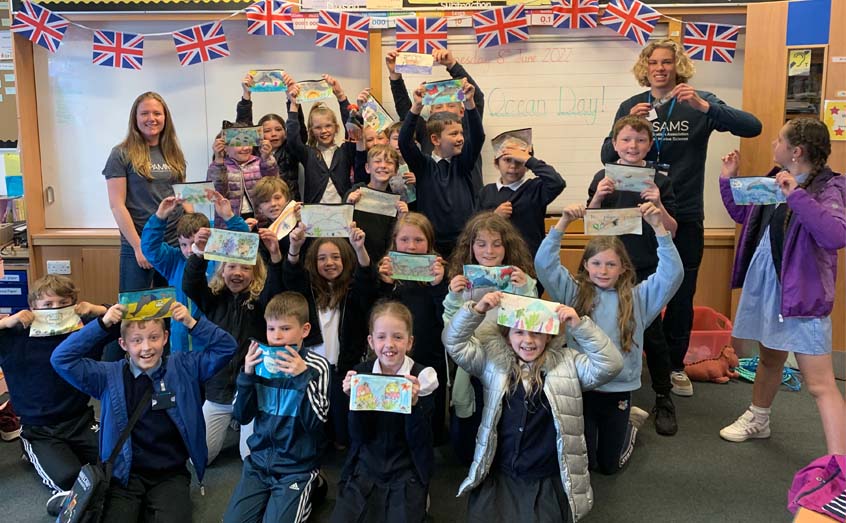 Pupils at Oban's Rockfield Primary School spent World Oceans Day (June 8) discovering some of the marine creatures in their local waters.
Staff from SAMS ran a workshop to help the primary five pupils to identify different types of animals, before investigating their behaviours and characteristics.
SAMS outreach intern Mia Leng explained the complex interactions between species and how animals have different roles in the ecosystem, from producers to consumers, and prey and to predators.
Rockfield Primary School's primary fives have been developing their knowledge and understanding of bio-diversity and climate change, based around global goals and sustainability.
Visits to the school have been limited over the past few years due to COVID-19 restrictions, so this was an exciting opportunity for the children. They were particularly interested in the endangered sealife in the local area and wanted to learn more about what they could do to promote awareness in their school and their community.
The workshop visit was part of the MarPAMM project, an environmental programme to develop tools for monitoring and managing protected coastal marine environments in Ireland, Northern Ireland and western Scotland.
Pupils took part in a photo identification treasure hunt in their playground to show the value of citizen science and how the public can play a role in helping to develop conservation areas. The various roles that species play in the ocean ecosystem was visualised using Food Chain Jenga, a topical take on the popular game, showing that an overwhelming number of detrimental events can cause the marine ecosystem to destabilise and collapse.
Mia said: "Whilst thinking about how the oceans are under threat, largely from human activities, the pupils also had a short discussion about some of the main dangers facing the seas and the animal community below the waves.
"These thoughts and concerns were illustrated on canvas pencil case, in the hope that the pupils will keep these and be reminded about the need to protect our seas, whether it be to reduce carbon footprints, minimise litter and plastic use, or to strive for more sustainable lifestyles."