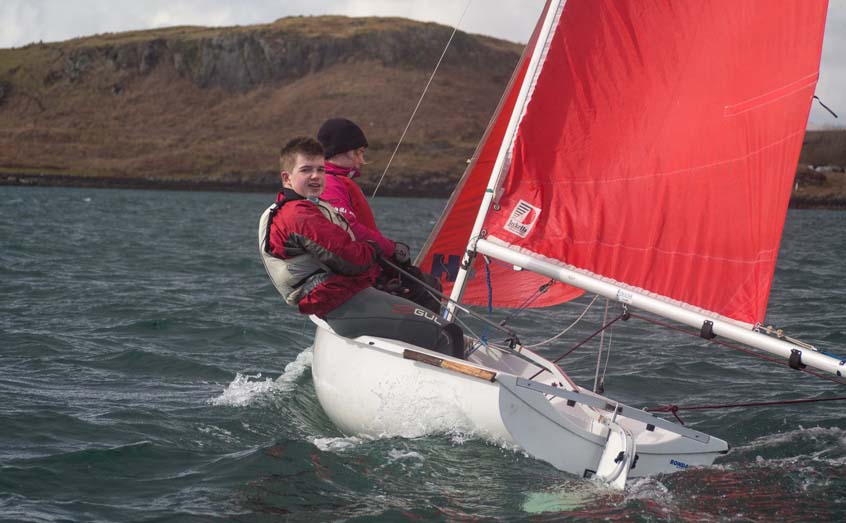 A student watersports club based in Oban has been named the University of the Highlands and Islands' best sports club for the third year running.
The university's Wind and Wave Club won Sports Club of the Year in this year's Highlands and Islands Students' Association (HISA) Awards, despite spending limited time on the water because of the Covid-19 lockdown.
Club commodore Iain Walsingham and yachting co-ordinator Jamie Rodgers, who both study at the Scottish Association for Marine Science (SAMS) UHI, were also highly commended in the Above and Beyond – Student Award category.
In the absence of organised sailing competitions this past year, the club arranged some group sailing for members based in Oban, alongside activities run by club partner Oban Sailing Club. There has also been online training and social events, as well as 'virtual' races.
Iain, who finishes his BSc Marine Science studies at SAMS UHI this year, said: "I was pleasantly surprised to hear we had won the sports club of the year award for the third year running and I'm really thankful for all the club members who took the time to keep the club going in really difficult circumstances. It was a real team effort and hopefully I've left the club in a position to move onto bigger and better things.
"We were heavily impacted by the Covid-19 lockdown. With the ability to attend online lectures from home, many of our club members were spread all the way from America to Germany, so we required a big online effort to accommodate everyone."
During the past year the club was able to access HISA grants to clear all club debts, meaning the Wind and Wave Club now owns its firefly racing dinghies.
An integral aspect of the university calendar, the HISA Awards give recognition to staff and students who dedicate their time to making the institution more diverse and inclusive for all. This year, over 600 nominations were received with submissions praising staff and students of the University of the Highlands and Islands for their support. The awards allowed students to nominate in various different categories and entries were judged by a panel consisting of staff, students, and student officers from across the university.
Dr Iain Morrison, the university's Dean of Students, said: "It is hard to think of a more challenging context for the HISA Awards than what we have all been through this year. Despite the changes necessitated by the pandemic, the staff and students at this university have been magnificent in the way they have remained focused on supporting each other, adapting to changes in delivery and continuing to provide a top quality education.
"The student comments are genuinely moving in what they say about the contributions of nominees to their wellbeing and success, and provide powerful testimony to what makes this university special: our remarkable staff and students."
The following SAMS UHI students and staff were highly commended in this year's HISA Awards: Dr Andrew Dale – Most Engaging Video Conference Lecturer; Prof John Howe – Best Research or Dissertation Supervisor; Prof Keith Davidson – Best Research or Dissertation Supervisor; Dr Laura Hobbs – Best Research or Dissertation Supervisor; Dr Michael Ross – Best Research or Dissertation Supervisor; Ronan Boyle – Most Inspiring Student.