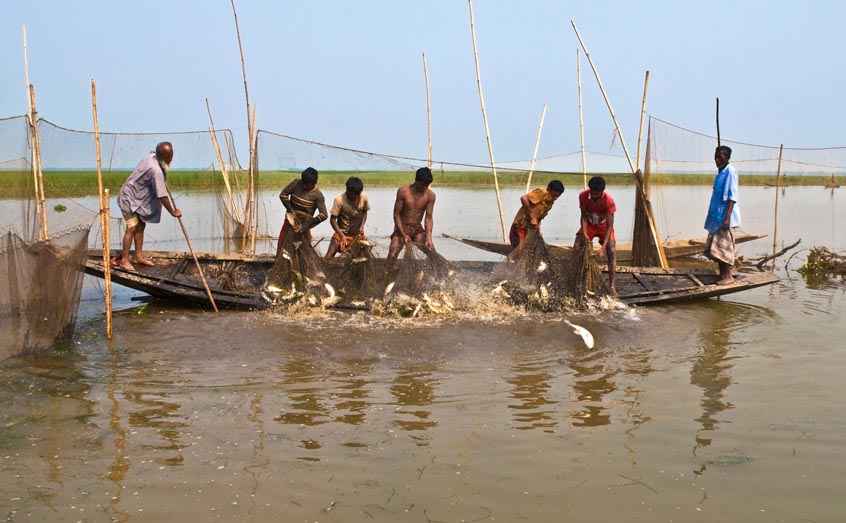 A SAMS scientist has recently returned from Bangladesh, where he was expert speaker on the role of fisheries in the country's expanding Blue Economy.
Dr Clive Fox, a fisheries ecologist, was invited by the Foreign Ministry of Bangladesh to present his work at the Blue Economy Dialogue event in Dhaka.
Dr Fox emphasised the need to the links between fisheries and other activites such as renewables, oil and gas, tourism, shipping and ports. The fisheries in Bangladesh are vital for their economy and food security so any potential conflicts or cross-benefits with other sectors had to be identified and planned for.
Dr Fox said: "Bangladesh is the most populous nation on earth in terms of numbers of people per square km. Projections are that the population will continue to rise over the next few decades, putting further strain on food production in particular.
"Climate change is also of concern especially as much of the land is low lying and prone to flooding.
"However, despite this Bangladesh has made great progress in development. I was particularly impressed with their commitments to improving the life of their citizens. There have been major advances in literacy, life expectancy and income.
"The resources of the sea are a key focus for the next stages of development but I was also impressed with how aware everyone was of the need for sustainable development. Despite all the problems Bangladesh faces I came away feeling very positive. There also many opportunities for future collaborations on research, capability building and education."