Student life at SAMS means being part of a dynamic and supportive social community; it means living in the great outdoors amidst spectacular scenery, and it means studying at the university at the beach!
There are roughly 160 students at SAMS (100 undergrads and 60 postgrads), but our students are also part of the larger Oban student community as well as regional and sectoral student groupings.
Oban is a small but growing university town with 800 students making up 10% of the population. Other students study at Argyll College UHI or in the local hospital. The number of students is rising dramatically year on year, and with it does the vibrancy of the student scene.
Most SAMS students are registered with the University of the Highlands and Islands and so are members of the Highlands and Islands Student Association (HISA). Many postgrads are also part of various graduate schools (eg MASTS, SAGES, NEXUSS or Edinburgh3 DTP).
The SAMS student community is very inclusive and it is difficult to be lost or lonely even as a new student. Ours is a welcoming and active community where students define their own niche.
There are scores of social student gatherings, be it for BBQs on the beach, house parties, pub crawls, cinema outings or attending the numerous events that happen in the town and neighbouring communities over the year.
Our students camp at the many music festivals that spring up all over the Highlands and Islands over the summer, eg Oban Live, Tiree Music Festival, Tartan Heart Festival... and/or get together for their own jam sessions..
As a student you also get amazing discounts for evening classes at Argyll College UHI, for example to learn a new language (how about Gaelic?) or to develop your artistic or creative writing skills.
Many of our students also get involved with local groups, be it as a member of the mountain rescue team, the local lifeboat, the amateur dramatics society, an environmental group or a band or choir...
A large number of students come here in part because of the scenery and physical environment. When the weather is acceptable they might go for a swim or dive at lunchtime and after work might meet up with friends to run up one of the local mountains or go on a cycle ride. At the weekend they might go sailing in the summer, climbing in autumn, skiing in winter or white water rafting in the spring!
There are currently three student clubs at SAMS: diving, climbing and sailing.
Check out other amazing opportunities in the local area...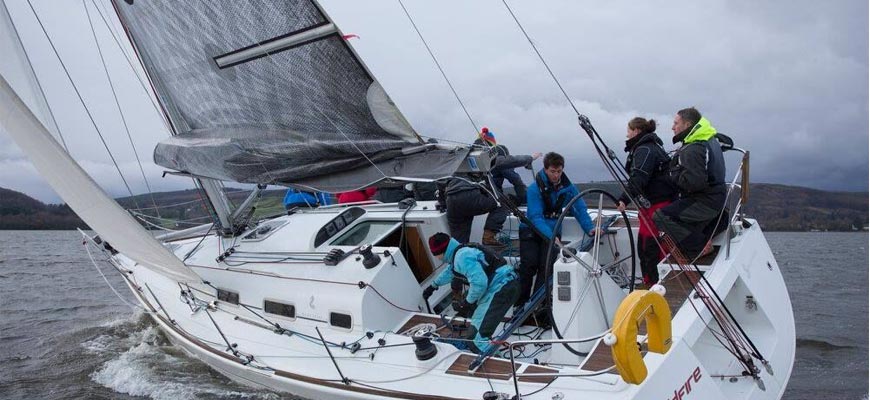 Established in 2016, this is one of the newest and most successful clubs in the Highlands and Islands Students' Association. Entirely based out of SAMS this student watersports club primarily focusses on sailing in all its forms, but also loves to get involved with board sports. We sail out of Oban Sailing Club during term time as well as organising windsurfing and wave surfing trips to further away locations.
Interested in learning to sail? We train beginners to sail, yacht and team race. No previous experience necessary, come along any weekend during term time (training runs from 1000-1600 on both Saturdays and Sundays). You will need clothes you don't mind getting wet in and old trainers. Though if you have wetsuits, drysuits and buoyancy aids please bring them along.
In addition to beginners training we also have two active and successful team racing teams, two match racing teams and two yachting teams. If you are staying in the Oban area then we also are a recruiting location for the Scottish Keelboat Academy and local yacht racing crews so there are plenty of opportunities to continue to sail.
Successes
1st Ladies team in Silver fleet at the Scottish Ladies team racing Championships 2016
2nd in Bronze fleet Scottish Team Racing Championships 2017
Want to know more?
Email us at uhiwwc@gmail.com and/or visit us on Facebook
Want to sign up? You can do that from this link...
Join our members page: https://www.facebook.com/groups/1820332458253261/
Want know what we are up to this weekend? That's here: https://calendar.google.com/calendar/render?tab=mc&pli=1#main_7
The Highlands and Islands Sub Aqua Club (HISAC) is a student branch of the British Sub Aqua Club (BSAC) established in 2013 by SAMS UHI undergraduates Felix Butschek and Sam Black.
BSAC is the UK's leading dive club and the sport's national governing body which provides an internationally recognised diver training and development programme.
We can offer something for everyone, from beginner to advanced: SCUBA training and skills development courses in a fun and friendly environment.
2017/18 is the first year the club has taken on trainees. We are delivering Ocean Diver and Sport Diver training. Training consists of a mixture of pool sessions, lectures and open water dives.
Costs are relatively cheap as BSAC is a voluntary training scheme.
Lectures take place on Tuesday evenings at SAMS and pool sessions on Wednesday evenings at the Lancaster Hotel in Oban.
Contact
For more information please email the club at: hisac.everyone@gmail.com
While going to university is about being independent, help is always available when students need or want it.
Your first port of call are our wonderful team of student registrars: Polly Crooks for undergraduates (Polly.Crooks@sams.ac.uk), the PGR Academic Support Administrator (PhD@sams.ac.uk) for postgraduates, and Marianne Fell (marianne.fell@sams.ac.uk) for ACES Master students. They can offer support and guidance on a range of topics including finances, learning support and personal issues.

For course related issues
Programme Leaders

Your personal academic tutor (PAT)
Taught students are allocated a 'PAT' from the SAMS teaching staff who will be their main academic support person for the duration of their course. First year students should meet with their advisor within the first two weeks at the meet and greet or another occasion. Thereafter you should try and see them at least once a semester or more frequently if required.
Your PAT is there to offer support regarding
>personal issues that affect your studies
>issues with completing assessments on time
>study queries / help with module choices
>your academic progress
>study plans
>mitigating circumstances (when an illness or major problem prevents you from completing an assessent in time / attending an exam etc)
>health and safety issues
>initial career planning
>references if you apply for studentships, internships or jobs during or after your programme

Your student reps
Every year students elect representatives to attend various committee meetings, where they can raise class or institution wide issues that affect groups of or all students. They usually do not deal with individual issues though.


Research student teams
Each research student has a supervisory team that include the director of studies (main supervisor), other supervisors and at least one other academic. They will meet regularly with you to review progress and agree the way forward. Research students also have a third party monitor to discuss any issues that might arise during their studies.


Special needs
The university aims to create a supportive and welcoming environment for all and strives to provide appropriate and efficient services to students with disabilities. Our methods of learning, teaching and assessment are flexible and designed to suit a range of needs. By offering effective support, we aim to enable all students to participate fully in all activities while studying with the university.
All students and prospective students are encouraged to disclose any specific needs as early as possible. Depending on your circumstances, you may be eligible for financial support to meet the costs of your studies and help with any specific items of equipment you may need.

We develop and regularly review individual support plans in partnership with every student with disclosed special needs. Polly Crooks (01631 559 335) coordinates student disability support for all students at SAMS.