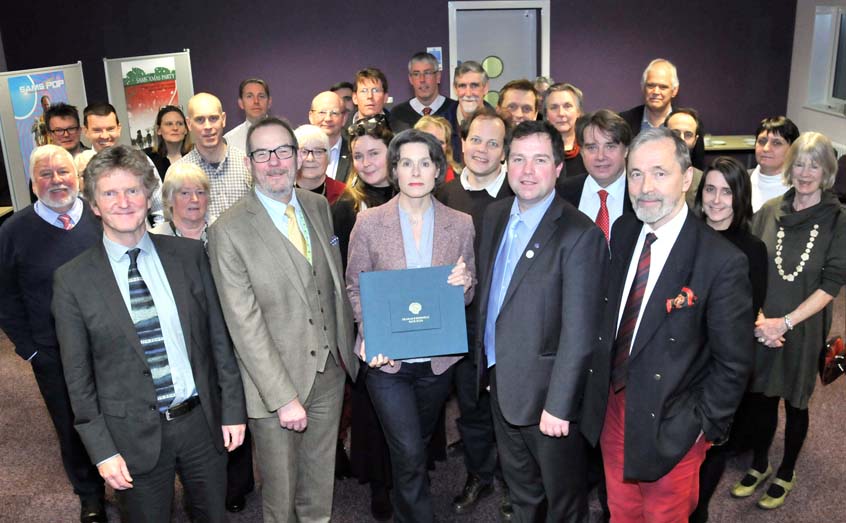 Friends and colleagues of the late Prof Graham Shimmield travelled from across the UK to celebrate the life and career of the Scottish Association for Marine Science's (SAMS) pioneering former director.
Leading marine scientists from around the UK attended the event held last Friday at SAMS, on what would have been Prof Shimmield's 59th birthday.
Prof Shimmield, who died on Christmas Eve last year, was at the helm of SAMS between 1996 and 2008 and transformed the institute: doubling the number of staff; developing the BSc and PhD programmes; building a new main laboratory; developing a business incubator for marine biotechnology companies; broadening SAMS research to include Arctic science, biotechnology and social science; and setting up its first commercial subsidiary.
Speakers at the event highlighted Prof Shimmield's legacy as a scientist, a leader, and an innovator.
Prof Nicholas Owens, the current SAMS Director, explained how Prof Shimmield's presence was still felt at SAMS and that it was a 'huge challenge' to follow in his footsteps.
SAMS President Prof Geoffrey Boulton added: "SAMS has lived on a heritage that Graham built and we need to continue that heritage. It seems like Graham is now throwing down a challenge to us to ask what we're going to do next."
Prof Shimmield left SAMS for the Bigelow Laboratory for Ocean Sciences, in Maine, USA, and was the driving force behind a new $33m laboratory.
Prof Willie Wilson, now director at the Sir Alister Hardy Foundation for Ocean Science in Plymouth, worked with Prof Shimmield at Bigelow. He said: "I have been a director and worked in various places and I often ask myself, "What would Graham do?". I think that is testament to his leadership."