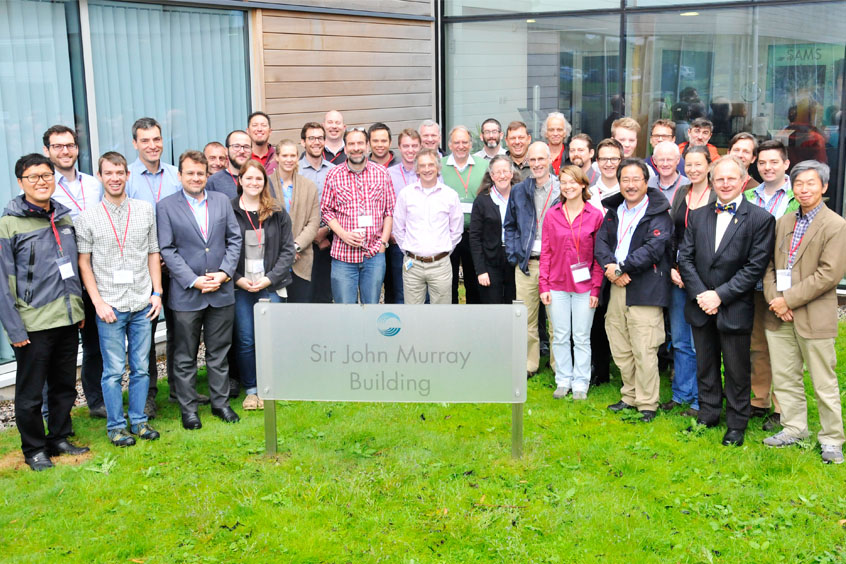 A global network of engineers and scientists working with remotely piloted aircraft (RPA) gathered at SAMS to discuss the future of atmospheric and marine research.
The International Society for Atmospheric Research using Remotely piloted Aircraft (ISARRA) is non-profit society for all scientists doing atmospheric and earth science research. In a fast-changing global environment, scientists are exploring uses for robotic technology to help them gather a wide range of crucial data; organisations like ISARRA have been important for sharing this information.
Dr Philip Anderson, Head of Marine Robotics at SAMS, hosted the ISARRA annual meeting last week. As the organisation's out-going chairman, he has overseen a doubling of the membership.
"SAMS is proud to have chaired the ISARRA network during a period significant development in the use of remotely piloted aircraft for scientific research," said Dr Anderson.
"I am also pleased to see increased interest from outside of Europe, particularly in the US and the Pacific arena; the ISARRA community has doubled to over 200 members in the last 12 months, making the society a truly global network for sharing ideas and solutions.
"Hosting the annual meeting this year allowed us to bring world-leading expertise to Scotland and show them how we are using robotics in our marine research, especially the combination of underwater and airborne platforms."
Visitors came to the annual meeting from as far afield as Japan, USA and Australia, with many others from throughout Europe, where ISARRA had been established.
Environmental scientist Dr Gijs de Boer, from the University of Colorado has succeeded Dr Anderson as chairman and will take the 2018 annual meeting to his own institute in Boulder.
He said: "ISARRA started in Europe but it has piqued the interest of institutes in the US. I'd like to build on the momentum of the past year and I envisage a large group attending next year's annual meeting."
David Bridges, Director of the Unmanned Aircraft Systems Program at Texas A&M University Corpus Christi, joined the annual meeting to learn more about ISARRA. He said: "We develop aircraft for atmospheric surveys but I was not aware of the level of activity in using aircraft to record atmospheric measurements.
"There are lots of applications for unmanned aircraft systems, such inspecting buildings, oil rigs and wind turbines. Even within environmental science, I see a lot of potential applications."