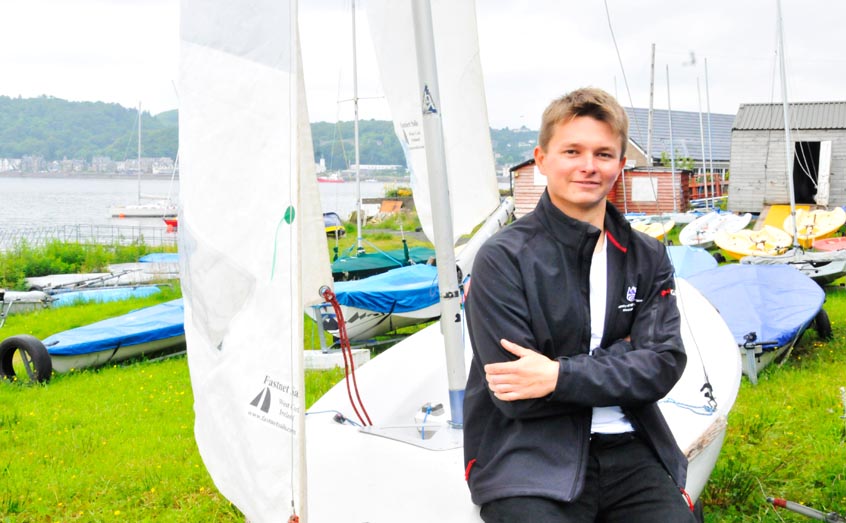 A young researcher who set up a sailing club for students in Oban less than a year ago has been recognised by the University of the Highlands and Islands for his commitment.
The university's Wind and Wave Club was established last September by students at the Scottish Association for Marine Science (SAMS) UHI, with help from Oban Sailing Club. It now has more than 20 members – all students at SAMS UHI – and has already won a university sailing title.
Now the Highlands and Islands Students' Association (HISA) has awarded its annual prize for best contribution to clubs and societies to vice-commodore, sailing coach and out-going, founding commodore Joe Penhaul-Smith. Current club commodore Regina Huttunen was highly commended in the same category, for helping to establish sailing and climbing clubs at SAMS UHI.
Joe was nominated by club members, who highlighted his work in sourcing funding, organising the affiliation to Oban Sailing Club and his ongoing work in training members for team racing and organising events and competitions.
The 23 year old, who is studying a PhD in microalgae cultivation at SAMS UHI, said: "I thought about starting the club the previous year during my Masters Degree but when I began the PhD I knew I would be in Oban for the next few years and that made the decision for me.
"I have always enjoyed team racing but there wasn't much of it in the area and there was room for more clubs at SAMS UHI. We also have students and staff who enjoy kite surfing, wind surfing, paddle boarding and other watersports, so I was really keen to make the Wind and Wave Club more than just a sailing club. The HISA award was a really nice surprise."
The former Staunton Harold sailor has already helped guide the University of the Highlands and Islands ladies to a win in the silver class at last November's Ladies Team Racing Championship. It was the ladies' first competition and three of the six women had only set foot in the Racing Firefly boat used in competition two weeks prior to the event.
There are currently two yachting teams within the club and this autumn will see the university represented in the Scottish university match racing and team racing leagues.
Dr Finlo Cottier, a senior lecturer in polar oceanography at SAMS UHI and commodore of Oban Sailing Club said: "I am delighted that Joe received this award. It has taken him a couple of years of hard work to get the club to where it is now.
"There is a great opportunity for Oban Sailing Club and the University of the Highlands and Islands Wind and Wave Club to work together to increase participation in sailing in the Oban area."
Wind and Wave Club yachting captain and out-going club secretary Jamie Rodgers has been awarded a half blue from the university, in recognition of his achievements in the club's maiden season. The Sporting Blues awards scheme has been established to recognise excellent sporting achievement within the University of the Highlands and Islands' student community.
The University of the Highlands and Islands was one of the first UK institutions to introduce student-led teaching awards. The HISA Awards, now in its eighth year, recognises excellence in 14 categories, with winners coming from around the university partnership.