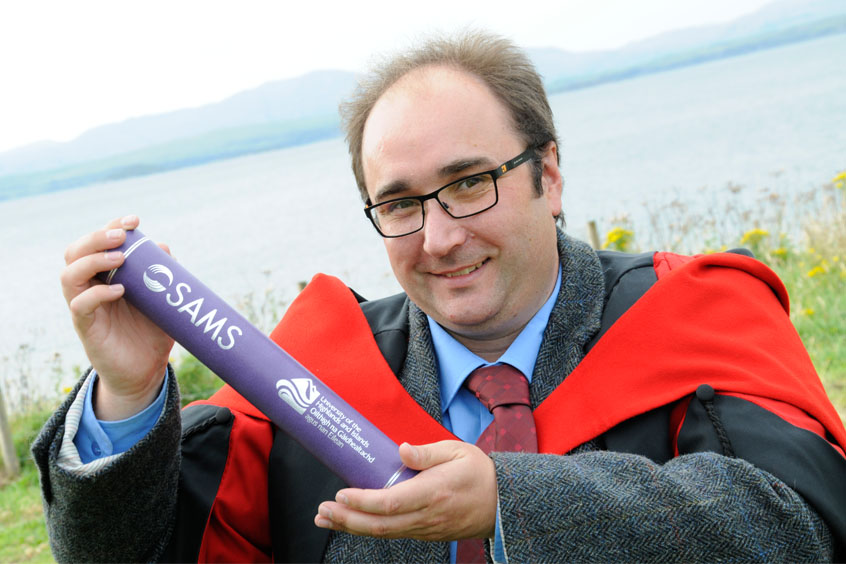 SAMS UHI has announced seven new fully-funded PhD studentships, ranging from microplastics to artificial reefs.
The full-time PhDs will begin in the forthcoming academic year and are among 26 studentships across the University of the Highlands and Islands partnership.
The studentships are being funded by the European Social Fund and Scottish Funding Council. Candidates from around the world are being invited to apply by the deadline of noon on Monday, May 8, 2017. Successful candidates will start in October and have their fees and living expenses covered.
Speaking about the studentships, Professor Clive Mulholland, principal and vice-chancellor of the university, said: "Since becoming a university in 2011, our reputation has been founded on our innovative approach to learning and our distinctive research and curriculum which are enriched by the people, natural environment, economy, culture and heritage of the Highlands and Islands and its communities.
"We are investing in our research capacity and are delighted to be able to offer these new studentships. The students will have the opportunity to develop their skills and knowledge alongside world-class researchers and be part of the next chapter of our story."
The PhDs available at SAMS UHI are:
1. Distribution of microplastics in the Scottish marine environment (DoS – Dr Bhavani Narayanaswamy,)
2. Culturing kelp like microalgae; gametophyte cultivation for metabolite extraction (DoS – Dr Phil Kerrison)
3. Bio-prospecting for novel marine polysaccharides for the Life Sciences (DoS – Dr D Green)
4. Propagation of underwater noise from Scottish fish farms (DoS – Prof Ben Wilson)
5. Addressing the impact of the landings obligation on the fishers of Shetland (DoS – Prof Sheila Heymans)
6. Artificial reef creation using decommissioned mattresses – environmental performance and fisheries enhancement potential in the North Sea (DoS – Dr Tom Wilding)
7. Optimising the decommissioning of concrete mattresses and support structures in the North Sea (DoS – Dr Tom Wilding)
Dr Bhavani Narayanaswamy, Head of SAMS UHI Graduate School, said: "These seven PhD studentships are all linked to some of the biggest challenges facing the marine industry at present and into the near future. The cutting-edge science and industry applications involved in every one of these studentships make them ideal stepping stones for young researchers looking to make their mark.
"Postgraduate students at SAMS UHI work alongside some of the leading figures in UK marine science and play an integral part in helping us answer some of the most pressing issues in that sector."
The PhD studentships are part of Developing Scotland's Workforce in the Scotland 2014-2020 European Structural and Investment Fund Programme.
To find out more about the individual projects, visit: https://education.sams.ac.uk/education/postgraduate/sams-phd-research/