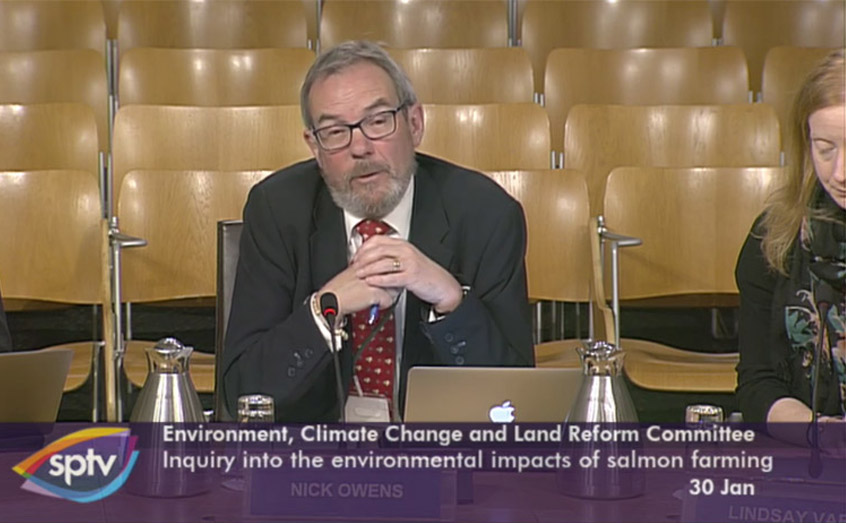 Scotland must invest in more research and consider where it will source an increasing demand for fish feed if its salmon farming industry is to keep pace with global leaders such as Norway, SAMS scientists have told MSPs.
The scientists were today (Tuesday) giving evidence to the parliament's Environment, Climate Change and Land Reform (ECCLR) Committee on the Environmental Impacts Of Salmon Farming in Scotland, the title of a report published by SAMS last week.
The evidence session raised questions on sea lice, impacts on wild salmon, the sustainability of fish feed, enclosed farming systems and fish welfare. The committee heard expert findings and opinions from Prof Nicholas Owens, Prof Paul Tett, Dr Adam Hughes (all SAMS) and Prof Eric Verspoor of Lochs and Rivers Institute at Inverness College UHI.
However, the marine scientists explained their review of current scientific literature had identified gaps in published research into the environmental effects of the industry and a lack of available data.
Members concluded that a running theme to the session was a need for greater investment in research, when compared with aquaculture leaders like Norway.
Committee convenor Graeme Dey MSP asked how long it would take to build up a 'body of robust science' to fill these knowledge gaps.
Prof Owens, Director of SAMS, said: "We would need to double or treble the current effort going on in Scotland. You are looking at a decade of really intensive work and we will need to up our game by an order of magnitude."
Asked which areas of research required most attention, Prof Owens said sea lice and organic material from fish farms were two key areas identified by the SAMS report.
Professor Tett was asked to consider the main environmental impacts of an increasing Scottish salmon farming industry. He said the two biggest environmental impacts to consider were the global impact of getting the ingredients for fish feed and the long term effects of chemicals on the environment. "We don't know enough about these long term [chemical] effects," he added.
Committee member Alex Rowley MSP said: "Throughout this evidence session, it seems to me that there is a lack of data and research in so many areas and Norway seems to be so much further ahead than us in terms of investment and research. Would that be a fair conclusion to draw?"
"In my opinion, absolutely," Dr Hughes responded. "The level of investment in research in Norway is much higher, as is the level of technical knowledge."
The committee will next take evidence, on February 6, from the Scottish Salmon Producers Organisation, Scottish Environment Link, Friends of the Sound of Jura, Loch Duart, Sepa, the Scottish government and Highland Council.
To watch the full evidence session, see https://www.scottishparliament.tv/meeting/environment-climate-change-and-land-reform-committee-january-30-2018
A transcript of the session can be found here: http://www.parliament.scot/parliamentarybusiness/report.aspx?r=11336