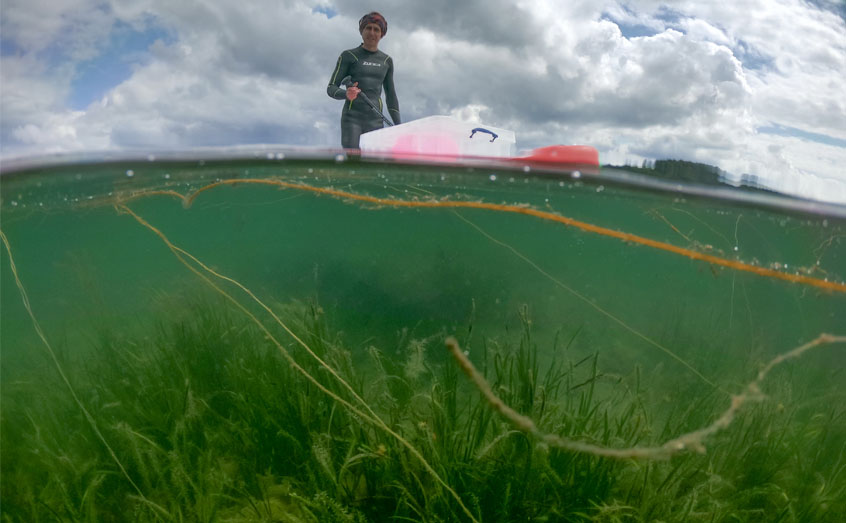 The UK will become the first nation to produce a complete map of its blue carbon stores, thanks to a new, pioneering project.
The Blue Carbon Mapping project – led by SAMS and funded by WWF-UK in collaboration with The Wildlife Trusts and RSPB – builds on the blue carbon mapping that began in Scotland.
The final report will be produced by the summer of 2023, with initial findings expected later this year.
There is currently limited information about how much carbon is stored in and sequestered by UK marine habitats such as saltmarsh, seagrass beds, kelp forest, biogenic reefs, and marine sediments.
The project aims to address this scientific blind spot, paving the way for better understanding and protection of the UK's blue carbon habitats. Scientists will assess the carbon storage and sequestration potential of all UK seas, as well as within Marine Protected Areas (MPAs).
With two-thirds of the UK underwater, the study will be critical in helping the UK achieve its commitments to achieving net-zero and to protect at least 30% of UK seas for nature by 2030.
Understanding and mapping blue carbon stores will allow UK Governments to plan and prioritise how we use our marine environments in the future. This includes exploring the impacts of human activities on blue carbon stores.
Currently, natural marine carbon stores are thought to be vulnerable to various pressures which can cause them to be disturbed, damaged, or removed entirely. They include bottom-towed fishing gear – used by certain fishing activities such as the scallop industry - and developments at sea and along our coasts – such as offshore energy.
The project follows a pilot study in the North Sea that was published last year and revealed just how important protecting UK seas are for tackling climate change. The report found:
Carbon stores in the English North Sea amount to nearly 20% of that held in UK forests and woodlands
98% of the total organic carbon is stored in seabed sediments like sand and mud
Seabed sediments are thus by far the most important habitat for carbon storage in this region.
Prof Michael Burrows of SAMS, who will lead the study, said: "Only by linking coastal blue carbon habitats with carbon flows in the wider ocean can we start to appreciate the scale of the contribution of blue carbon at national and international levels.
"The UK's exclusive economic zone (EEZ) – an area of the sea up to 200 nautical miles from the shoreline – is larger than the land mass. Added to that are environments like Scottish sea lochs, which are unusually carbon rich, so it is crucial for us to understand the true blue carbon potential of such areas within the UK's jurisdiction.
"This project will provide baseline information for key policy decisions."
The UK Blue Carbon Mapping project will complete essential research in three regional phases - English Channel/Western Approaches, Irish Sea and Scotland (with the North Sea assessment completed and published last year) - before combining these into a UK summary next year.