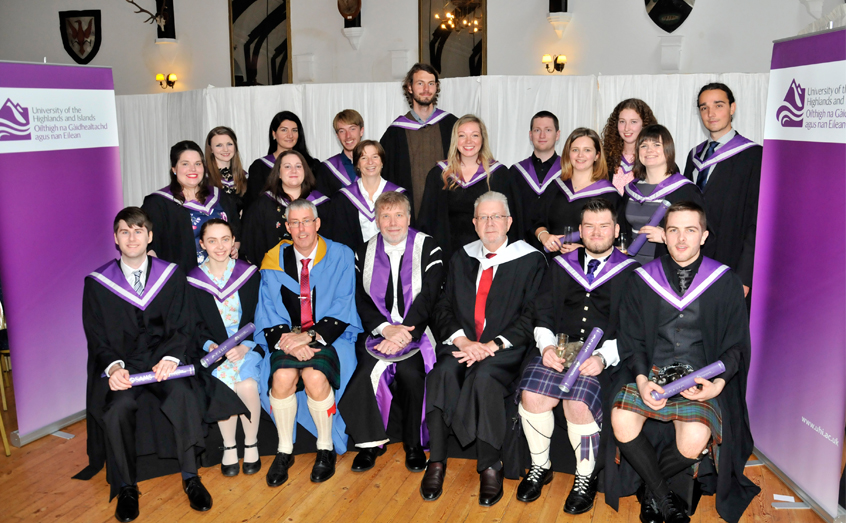 Stories of overcoming the odds, academic excellence and sporting endeavour were a cause for celebration at the SAMS UHI 2017 graduation ceremony.
Held in Oban's Argyllshire Gathering Halls on Friday, September 8, the ceremony saw a keynote speech by Michael Russell, the constituency MSP and Minister for UK Negotiations on Scotland's Place in Europe. During his speech, the MSP said he was proud to have SAMS UHI in his constituency.
Prof Keith Davidson, Associate Director for Education at SAMS UHI, told the audience that the coming academic year was the first when the combined numbers of undergraduate and postgraduate students would exceed the number of staff. He also paid tribute to Prof Graham Shimmield and Prof Ian Bryden, two major contributors to the growth of SAMS UHI, who both died in the past year
A total of 18 BSc Marine Science (Hons) graduates received their scrolls from University of the Highlands and Islands deputy principal Crichton Lang, with a number of awards shared between them.
Iranian student Maryam MacCorquodale, who now lives in Appin, was presented with the SAMS Award for Special Achievement. Maryam raised her baby and worked part-time while achieving a first class honours degree.
"There were many times when I struggled to balance everything," said Maryam. "I received my offer of a place on the course shortly after I found out I was pregnant. My mother had agreed to come over from Iran to support me but was refused a visa. I haven't seen my family in five years."
Maryam said her love of science and the support of fellow students and staff at SAMS UHI gave her the strength to complete her degree.
Fellow graduate Shannon Lafferty, who is a depute president with the Highlands and Islands Student Association, was awarded the SAMS UHI Student of the Year title.
Graduates Daniel Burt, who is from Connel, and Jamie Rodgers were awarded the SAMS Council Award for Academic Excellence and the Tim Boyd Prize for Oceanography, respectively. Jamie, the university sailing team captain, also received SAMS UHI's first Sporting Blues award. Daniel, one of four former Oban High School pupils graduating this year, has been accepted for a Masters at the University of Hamburg.
He said: "The SAMS undergraduate degree really stood me in good stead, as my lecturers in Hamburg knew of SAMS' research reputation. They loved that we had such a multi-disciplinary course and that I had studied in Svalbard as part of the degree."
Although this was the 13th annual graduation ceremony to take place at SAMS UHI, this year saw the first graduates of the Aquaculture, Environment and Society (ACES) Joint Masters Degree. ACES Masters graduate Stewart Beattie was present at the ceremony, two years after he graduated from SAMS UHI's BSc in Marine Science. Stewart accepted the award for the best ACES dissertation on behalf of Brazilian student Patricia Alves Pereira.
The Johanna Fehling Memorial Prize for the best published paper by a student was shared between PhD students Kati Michalek and Winnie Courtene-Jones, who have both won national awards for their research in 2017. Kati is the current Lantra Scotland Higher Education Learner of the Year and Winnie won the P1 Marine Foundation UK Student of the Year.