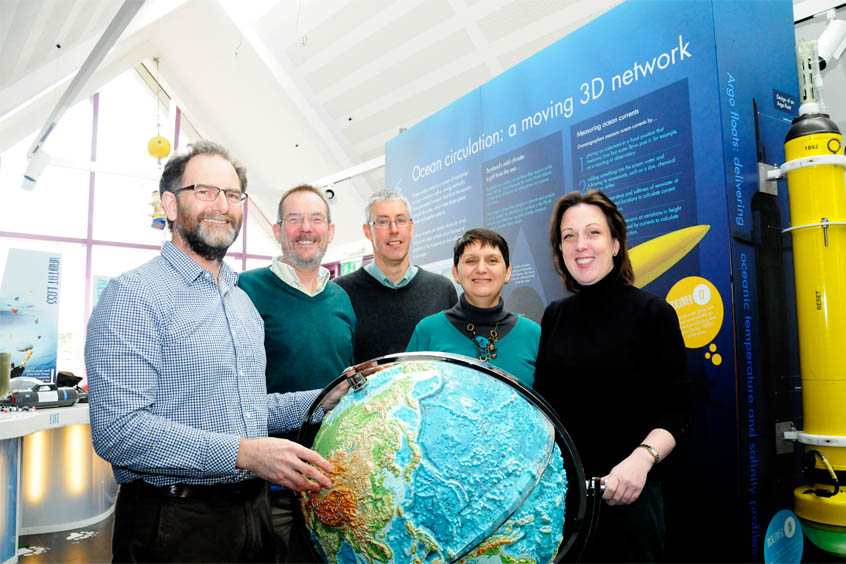 Scotland's Chief Scientific Adviser has praised SAMS research and its relevance to the environment, industry and communities during her first visit to the institute.
Professor Sheila Rowan MBE was appointed to the part-time Scottish Government role in June 2016 and remains Director of the Institute for Gravitational Research at the University of Glasgow.
Her visit last Friday (February 24) was organised by SAMS' Principal Investigator in Physical Oceanography Prof Mark Inall, who is also Director of the Scottish Alliance for Geoscience, Environment and Society (SAGES).
During her visit Prof Rowan met senior SAMS staff, including Director Prof Nicholas Owens, and toured the institute's robotics and aquarium facilities, as well as the Culture Collection for Algae and Protozoa and the Ocean Explorer Centre.
Prof Rowan said: "One of the reasons for visits like this is to make sure I have the fullest picture of the research environment and expertise across Scotland.
"At SAMS there is a real mix of fundamental research in marine areas but also recognition of how that connects with industry, the environment and our communities. I was very interested to find that recognition here."
Prof Inall said: "It was a pleasure to host Prof Rowan during her visit SAMS. Scotland is well-known throughout the science community for its marine research and SAMS is a central part of that.
"It is therefore important that the Chief Scientific Adviser has knowledge of the broad range of science here at Dunstaffnage and how that research is relevant to government and society."
The Chief Scientific Adviser for Scotland is responsible for advising the Scottish Government about science-related issues; championing the use of science to inform policy development; and supporting Scotland's world-leading science base and its potential to benefit Scotland's economy, people and environment.
Prof Rowan's own research is targeted at developing optical materials for use in gravitational wave detectors. Her recent work has been a crucial part of the Advanced LIGO upgrades, carried out between 2010 and 2015, that contributed to one of the most significant scientific breakthroughs of this century: the first detection of gravitational waves announced in February 2016.
This resulted in a share of the 2016 Special Breakthrough Prize in Fundamental Physics for her and the members of her team in Glasgow.