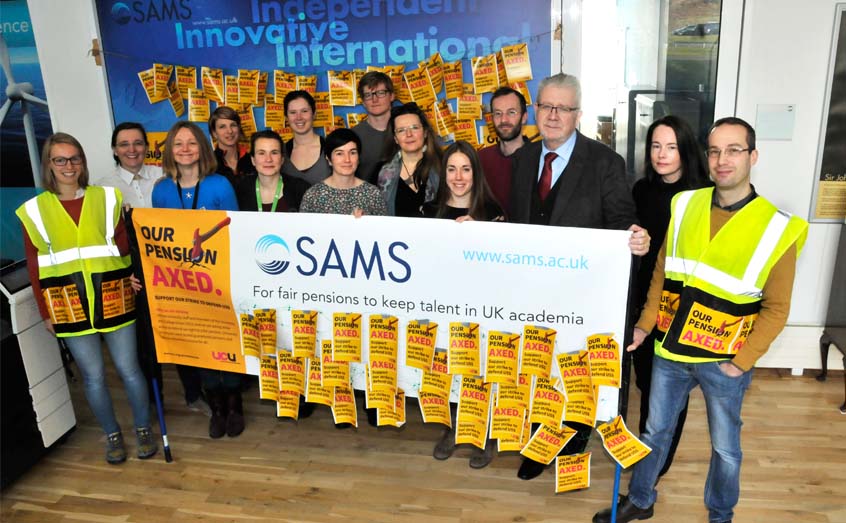 Members of the University and College Union (UCU) at SAMS joined thousands of others throughout the UK by striking in protest against changes to their pension schemes.
And the SAMS staff, including lecturers, administration and management, were supported by their constituency MSP Michael Russell, who spoke with union members on the picket line.
The academics are opposed to proposed changes to their pensions, which they say could leave a typical lecturer up to £10,000 a year worse off in retirement.
Universities UK wants to change the Universities Superannuation Scheme from a defined benefit scheme - giving a guaranteed retirement income - to a defined contribution scheme, where their pensions would be subject to changes in the stock market.
Younger staff would be worst affected, says UCU, with some losing up to half their pensions, on average.
Members voted to take strike action on specified days during February and March and today (Monday) suggested more strikes could be on the cards.
Speaking during his visit to SAMS, Argyll and Bute MSP Mr Russell said: "As a member of UCU myself, I am in support of the of the strike but the important thing for me as the local MSP is to make sure that there is recognition for the institute, the people that work in it and the point they are making."
UCU members at SAMS also received support from a number of students who signed an open letter.
Universities UK is appointing a panel to examine the methodology and assumptions that lay behind the estimation that the Universities Superannuation Scheme was facing a £6.1 billion deficit.
It was this calculation that led to UUK proposing the end of the element of the USS that guarantees scheme members a set level of income in retirement, a proposal that led to members of the University and College Union at 65 institutions taking strike action.