Here at SAMS we have boats up to MCA standards to enable us to complete marine science around the local area.
Our research vessels since 1882
Nowadays, a small fleet of research vessels provide our scientists, students and visitors with direct access to the range of oceanographic environments on our door step: from sea lochs, the Firth of Lorne to the Sound of Mull.
SAMS operates two research vessels, the larger RV Calanus and the RV Seòl Mara, which are moored next to Dunstaffnage Castle (and next to SAMS). Both vessels - as well as a range of equipment and services - are available for charter.
Calanus and Seòl Mara are capable of deploying a range of sampling gear for hydrographic, biological and chemical parameters.
The vessels are operated by a crew capable of deploying the technology and supporting sampling and instrumentation.
Contact
For commercial customers we can complete bespoke project packages to include data collection, analysis and report writing.
SRSL team for quotes and charter bookings: info@srsl.com or T: +44 (0) 1631 559 470
Ships' Operations Manager for technical enquiries: Sarah Reed (for boat enquiries use Email boats@sams.ac.uk)
R.V. Calanus is a 20m MCA standard, category 2 general purpose research vessel for inshore waters. She has a passage speed of seven knots and is suitable for trawling and benthic sampling. She has a spacious afterdeck, a wet and dry laboratory, a scientific plot room.
Calanus - named after the most important zooplankton genus in the North Atlantic - has a day capacity for 12 plus crew - for day trips out of Dunstaffnage.
R.V. Calanus was designed for SAMS by G.L. Watson (Naval Architects) Ltd. She was built in 1980 of West Afrikan iroko on teak frames by J. Hinks of Appledore in Devon. She was designed as a general-purpose research vessel for inshore waters.

Laboratories
Main laboratory (6.5m x 2m)
The benching is railed for palletisation, as is the deck beneath. All benching is demountable apart from a corner sink unit. In total there is nearly 10m of continuous bench space. Stocking units up to 2m high can be accommodated. Storage space is provided in a large walk-in locker. Electrical power is provided through four twin 13A, 240V sockets.
Wet laboratory (2m x 1.9m)
A freezer (10 ft3) is provided in this lab for scientific use. There is a large sink unit (twin sinks) with hot and cold freshwater.
This space is suitable for housing electronic equipment. There is approximately 3.5m of benching. Electrical power is provided via two twin, 13A 240V sockets. There is direct access to the upper working deck.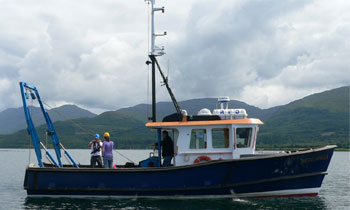 Designed in 1972, Seòl Mara is a 10.4m general purpose MCA standard category 3 research vessel, well suited to use in confided upper reaches of sea lochs or shallow inshore waters.
She has a large open afterdeck (6m x 4m) with removable aft rail section (width 1.25m) to allow easy deployment of large gear. There is a bench area in the wheelhouse (1m x 0.6 m) for covered scientific working, and a covered dry hold area, which provides storage and mounting space for equipment.
Seòl Mara has capacity for 8 passengers and crew.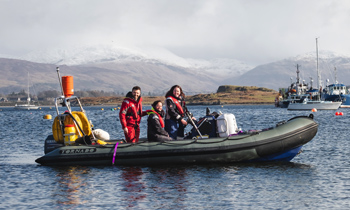 Usige is a CAT 3 (restricted) day and night Tornado 5.8 m RIB. The RIB can travel within 20 miles from a designated safe haven and can carry 6 people but not over 450 kg including equipment. The RIB is on a roadworthy trailer and can be taken anywhere with a bit of planning.
The perfect RIB for checking on deployed equipment, student trips (especially at the Falls of Lora) and simple tows and scientific equipment can be used from her.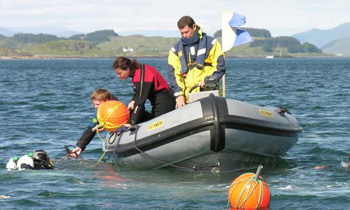 Affiliated with SAMS is Tritonia Scientific. More information about what they do and what they can offer can be found on their website: tritoniascientific.co.uk